RAWALPINDI: Prime Minister Nawaz Sharif inaugurated the mega project of Rawalpindi-Islamabad Metro Bus Service on Thursday, to provide hassle free, comfortable and economical travelling facility to the residents of the twin cities.
The PM launched the project at an impressive ceremony held at the Jinnah Convention Centre in Islamabad.
A dedicated signal-free track of 23 kilometers has been constructed between Islamabad Secretariat to Saddar Rawalpindi with 24 stations equipped with modern facilities to facilitate the commuters of twin cities.
Project Director and Commissioner Rawalpindi gave a briefing about concept and implementation of the project and salient features of the bus service.
The 23-kilometer signal free corridor of international standard has been constructed in just 14 months despite various challenges.
Its total cost is 44.84 billion rupees including an Interchange at Peshawar Morr at a cost of 5 billion rupees.
Rawalpindi portion of 8.6 kilometer road is overhead track.
There are 24 state-of-the-art bus stations on the route of the Metro Bus Service – 10 in Rawalpindi and 14 in the Federal Capital.
These stations have modern facilities like computerised ticketing system, escalators, elevators for special persons and Wi-Fi.
In all, 68 buses have started operating on the route as of today and each bus has a capacity of 150 passengers.
Moreover, around 150,000 commuters will benefit from this service daily.
Chairman Bus Project Hanif Abbasi said Metro Bus has become a reality despite propaganda of the critics.
He thanked Prime Minister Nawaz Sharif and Chief Minister Punjab Shahbaz Sharif for provision of modern traveling facility, which has also added to beauty of landscape of the twin cities.
Hanif Abbasi said the government has given handsome compensation to those whose properties were affected due to construction of the project.
The ceremony was attended by members of the Federal Cabinet, Governor Punjab Muhammad Rafique Rajwana, Governor KPK Sardar Mehtab Ahmad, Governor Balochistan Muhammad Khan Achakzai, Chief Minister Punjab Shahbaz Sharif, Chief Minister Khyber Pakhtunkhwa Pervez Khattak, Chief Minister Balochistan Dr. Abdul Malik, political leaders, members of the parliament, members of the diplomatic community in Islamabad and senior officials.
PM announces Metro Bus projects for Karachi, Multan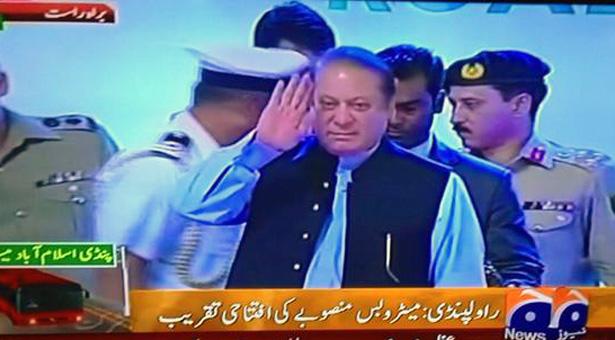 Speaking after inaugurating the project, PM Nawaz announced similar Metro Bus projects in Multan and Karachi.
Addressing CM Khyber Pakhtunkhwa Pervez Khattak, he also offered the federal government's services for a similar project for Peshawar.
The premier went on to say that despite PML-N candidates Hanif Abbasi and Shakil Awan's defeats in the 2013 elections from Rawalpindi and surrounding areas, the party has given the local populace a gift in the shape of Metro Bus service.